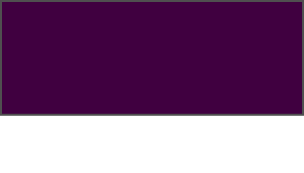 © John Clarke 2014-2021, All Right Reserved
Historian of Brookwood Cemetery

Celebrating Churchill: 13 October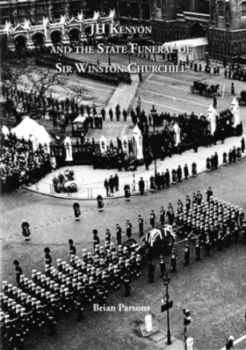 I was honoured to be invited to a special lecture at J H Kenyon on the evening of 13 October. The lecture was given by Brian Parsons to commemorate the 50th anniversary of the state funeral of Sir Winston Churchill.
Among the guests were Sir Nicholas Soames and other members of the Churchill family.
During the lecture, Brian Parsons described the various arrangements made for Sir Winston's state funeral, and Kenyon's role within this framework.
The lecture has been issued as a booklet, which is profusely illustrated with black and white and colour illustrations. It is available from J H Kenyon direct.
Byfleet Heritage Society: 10 September
An enjoyable evening speaking to members of the Byfleet Heritage Society on Brookwood Cemetery. The Society meets in the St. Mary's Community Centre.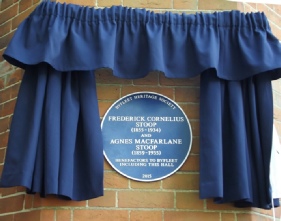 During the course of the evening I learned about the Society's first blue plaque which was due to be unveiled on 12th. It honours members of the Stoop family, benefactors of Byfleet. Members of the family are buried at Brookwood. I also discovered the Society has undertaken a very comprehensive project mapping all the graves in St Mary's Churchyard.
Death, Disease and Damnation: 2 May
I was delighted to be invited to present a paper on Brookwood Cemetery at this year's Surrey Archaeological Society Local History Annual Symposium. Held at Ashtead Peace Memorial Hall, the theme was "Death, Disease and Damnation". A wide-ranging series of lectures took place both in theme and period. A fascinating and informative day.

I've been contacted by Ernest Stoddart, Archive Producer for Reef TV who is working on a TV series "Disappearing Britain" for More4.
The series consists of 12 magazine style programmes containing celebrity contributor led items on subjects ranging from stately homes, national parks, art, furniture, customs & pastimes.
Ernest tells me they are doing an item on Brookwood Cemetery and its railway and wish to source some images. More to follow on this, I'm sure!
The Necropolitan Line in Leeds: 5 December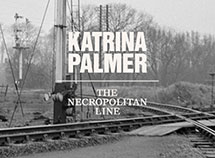 Thanks to my network of friends I was alerted to this piece in today's Guardian Guide. It promotes an exhibition by Katrina Palmer at the Henry Moore Institute in Leeds, inspired by the Necropolis railway.
The exhibition runs from 10 December 2015 through to 21 February 2016 in Galleries 1, 2 and 3 of the Henry Moore Institute LS1 3AH. The link above gives further details and information.
Could Another Necropolis Railway Solve London's Burial Crisis?: January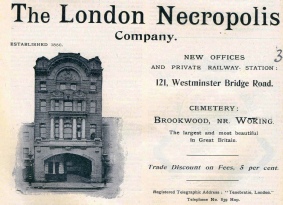 This month the Editorial team of the Funeral Director Monthly pose this most interesting question.
There is currently a debate taking place in councils throughout the country about the growing crisis over burial space, with local authorities planning how they can address the issue of cemeteries filling up to capacity over the next few years.
In inner-city urban areas like London, space is especially tight. In some cases there is almost nowhere left to go and MPs have warned that the situation will reach crisis point by the end of the decade.
But could this problem of the future be solved using a solution from the past, by updating the idea of the Necropolis Line? You can read more here.
Ernest Stoddart, Archive Producer for Reef TV, has been in touch again regarding an image of a coffin ticket.
This is one I can't help with as the image is completely new to me. I'd be very interested to know where the original comes from.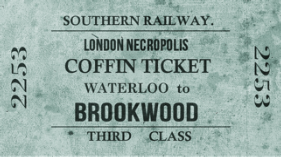 The type faces used - and particularly the ticket number displayed on each side - are of font styles I've not previously seen on Southern Railway tickets. This is assuming the ticket is genuine.
It is possible the image has been created as a facsimile using a graphics software package. This may account for the peculiar font styles. The ticket numbers are unlike the heavier typefaces usually used, whilst the numbers rarely (if ever) line up as neatly as they appear here.
I await Ernest's feedback with interest.