On the night of Saturday 4 November 1967 a Caravelle of the Spanish national airline Iberia EC-BDD crashed near Fernhurst in Sussex killing all seven crew members and 30 passengers. The aircraft was on a scheduled flight from Malaga to London and had been cleared to descend to 6,000 feet on its approach to Heathrow. With no hint of an emergency or in-flight problems, the aircraft made a steady controlled descent from its cruising altitude of 21,000 feet until it hit the ground near the summit of the 600 feet high Black Down Hill killing all on board.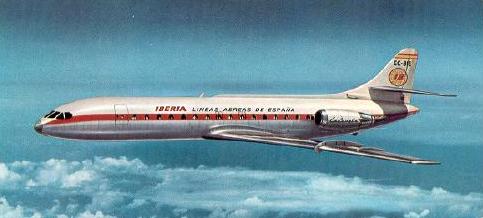 A Caravelle airliner of Iberia Airlines
Despite a lengthy investigation no definite cause could be determined for the crew's continued descent through their assigned altitude. However, the report conjectured that the crew, being busy with their approach and landing checks, may have misread their altimeter, which was of a type using a combination of pointers and shaded windows and not easy to interpret at a glance. There had been several recent accidents where crews were thought to have mistakenly read thousands of feet when their altimeters were actually reading in hundreds of feet. As the Cravelle was flying in the dark, and mostly above a low lying bank of cloud, the crew would have had no visual clues that they were too low until the last moment. Soon after the accident most airlines replaced this particular type of altimeter with models which were easier to read.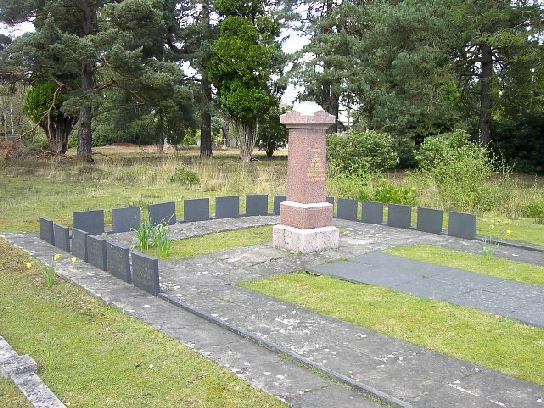 The plot at Brookwood features a pink granite pedestal memorial surrounded on three sides by 19 black marker stones, each inscribed with the name, date and place of birth of each of the victims buried in the communal grave. Twelve passenger and six of the crew are buried elsewhere. Surprisingly, one of the Spanish stewardesses, Miss Araceli Sedillo Casanova, is buried alongside 16 British and two Spanish passengers at Brookwood. One of the passengers, Donald Campbell, was well-known among the British civil aviation fraternity as the designer and builder of gliders and autogyros. Another of the unfortunate passengers was the actress June Thorburn, although she was not buried at Brookwood. By a strange coincidence, three-year old Paula Clarkson, the daughter of the Vice-President of Coventry City FC, is recorded on her headstone has having been born in the Warwickshire hamlet of Blackdown.
The central granite memorial replaced the original black commemorative panel which formed the central feature of the original plot. This was damaged some years ago and was subsequently replaced by the pedestal stone.
On the 50th anniversary of this air disaster, on Sat/Sun 4-5 Nov 2017 the Fernhurst Society is arranging an exhibition and memorial service to commemorate the 1967 crash of the Iberia Airlines Caravelle into the slopes of the Black Down Hill.
Copyright © 2017 by John M. Clarke All Rights Reserved