The Barcelona Air Disaster: 50 Years On


On Wednesday 19 August 1959 a DC-3 aircraft belonging to Transair Ltd took off from Barcelona Airport for a non-stop flight to Gatwick. The aircraft had been converted to airliner standard in 1953 from a wartime RAF Dakota troop transport. On board was the crew of three (the Captain was John Raymond Arnold from Godstone in Surrey) and 29 passengers. The aircraft had been chartered by the National Union of Students and all the passengers were students in their late teens or early twenties returning from holidays in Spain. Although the weather was generally clear and bright, the tops of some of the mountains close to Barcelona were shrouded in cloud.
Dakota DC-3 in the livery of Transair Ltd
Approximately 19 minutes after take-off the aircraft crashed into the summit of the 5,500 feet high Montseny Peak. It burst into flames, killing all on board. The investigation into the accident by the Spanish Directorate General of Civil Aviation could offer no explanation for the aircraft captain's actions in flying under visual flight rules into cloud at a height insufficient to clear the local terrain.
The resulting Spanish accident report proved to be highly controversial. On 16 May 1960 questions were asked in the House of Commons on behalf of relatives of the deceased during which the report was described as "extremely brief" and "shockingly inadequate".
The memorial in plot 109 at Brookwood comprises a large kerbed grave measuring 32 ft by 20 ft with a large upright headstone recording the names of all those buried in the grave. The headstone states "In memory of those who died as a result of an accident in Spain on 19th August 1959".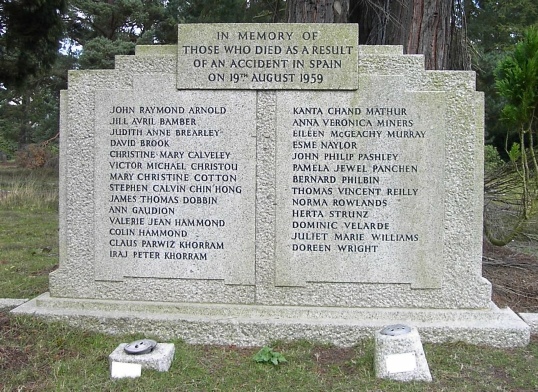 27 of the 29 passengers are buried here; two passengers and all three crew were buried elsewhere. Brother and sister Colin and Valerie Hammond, and brothers Claus and Iraj Khorram (formerly of Iran) are buried together. Eleven of those listed on the memorial headstone also have individually named stone vases within the allotment. Of those with individual memorial vases, four were students at the Westminster Hospital Medical School, and one an engineering student at Queen's University Belfast. Adjacent to the plot is a memorial bench in memory of Anna Veronica Miners and Eileen McGeachy Murray, two of the victims. Also close by are the graves of the Hammond and Christou families, relatives of three of the students killed on 19 August 1959.
The Barcelona air crash was the only fatal accident suffered by the Gatwick based Transair Ltd during its 13 year career. In July 1960 Transair became part of British United Airways. Today, when air travel is so universal (it is estimated that at any one time a million people are in the air worldwide), the disaster is a reminder that even 50 years ago the risks of flying were at least ten times greater than they are now.
Copyright © 2009 by John M. Clarke All Rights Reserved