Welcome to John Clarke's Website
Hello, and welcome to my website. I'm a freelance writer and medical librarian based in London.
My writing and research has mainly focused on Brookwood Cemetery, but I have also written on railway-related subjects. See the panel on the right.
Over the years I have presented many lectures on Brookwood Cemetery and its railway funeral service. If you are interested in booking me for a local (or national) group then please feel free to contact me via the contact page on this website or email me at info at john-clarke dot co dot uk.
Please note that due to work commitments I am usually only able to give talks in the evening or at the weekend.
I have also authored some websites which explore the rich content of some of the part-works issued by the Amalgamated Press in the mid to late 1930s. These cover railways, ships and engineering subjects - see the panel below for examples of covers from each of these series.
Information about all of these areas are incorporated into my website.
Rhododendron Clearance at Brookwood Cemetery is Destroying This Historic Landscape
May I draw your attention to the devastation of the historic landscape of Brookwood Cemetery?
Work is currently being undertaken by South Bucks Tree Surgeons under contract from the Surrey Wildlife Trust on behalf of Woking Borough Council. On the grounds that these shrubs are "non-native, invasive species and the purpose of removal is to allow native ground vegetation to flourish", all rhododendrons across this part of the cemetery are being removed down to ground level. This is transforming the landscape of the cemetery into something quite alien.
The work ignores the fact there is ample photographic evidence proving that rhododendrons have been a major feature of the cemetery landscape for at least 120 years.
But not - it would seem - for much longer.
The St Alban's plot: utterly denuded of its privacy and seclusion (and they've missed a bit on the right-hand side)
One of my favourite plots at Brookwood, the burial ground for St Alban's Holborn, has been destroyed by the complete removal of all the surrounding rhododendrons. Its peace and privacy has been completely shattered. What Pevsner described as "a sombre complex landscape" is being completely transformed since this sorry process is set to continue across the whole southern side of the cemetery.
Had this work been undertaken by the late Ramadan Guney I'm sure the Council would have acted at once to prevent it. To their shame neither English Heritage nor the Brookwood Cemetery Society has commented on these developments; in fact reading the latter's latest "newsletter" one would be mistaken for thinking this clearance is a mere weeding or tidying process.
I complained to Councillor for Brookwood - Kevin Davis - who appeared to be completely unaware of this drastic programme of clearance. I contacted him on 5 April and at the time of writing (26 April) I've had no reply. I have therefore written to the local press and you can read my letter in full here. I hope the letter will be published and make people more aware of what is going on at Brookwood. You can also read the article from the "Woking Advertiser" dated 6 May 2016, along with my further letter and comments.
Another view of the St Alban's plot: both the lych gate and the Tankerton Calvary are now isolated amidst a scene of desolation. Years ago the Burial Society of St Alban's probably paid for the rhododendrons to be planted to screen their section. This provided visitors the privacy and seclusion they sought when visiting the graves of their loved ones. Its former atmosphere of a country churchyard has been completely extinguished.
Oakwood Press: Change of Ownership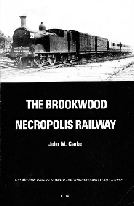 As an Oakwood Press author, I was recently informed
that the publishing house is to be handed over to a new owner.
After 31 years, Jane Kennedy, who took over the Oakwood Press from its founder, Roger Kidner, has decided to pass on the press to a like minded person, namely Richard Stenlake, founder of Stenlake Publishing.
For my book, The Brookwood Necropolis Railway, this will be the third owner of Oakwood Press.
It was Roger Kidner who agreed to publish the original version in 1983, whilst all subsequent editions have appeared under Jane Kennedy's ownership.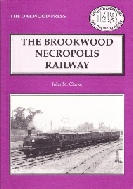 I am sure that Richard Stenlake will be keen to continue to Oakwood style, reprints and new editions in the future.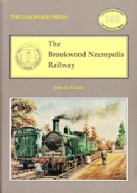 Meanwhile, for collectors of the Oakwood Press titles, I can recommend Terence Mullarkey's history of the Oakwood Press: Oakwood Press the First 80 Years 1931-2011: A Collector's Guide (Oakwood Press, 2012). This illustrates all Oakwood's titles published between 1931 and 2001.
Forthcoming Lectures
"Diversity in Brookwood Cemetery" for the Magnificent 7 Seminars: Diversity in Cemeteries, Small Crematorium Chapel, West Norwood Cemetery, Saturday 5 November 2016 from 10.30 - 4.30.
The draft programme can be viewed here.
"The Brookwood Cemetery Railway" for the Friends of Kensal Green Cemetery (Kensal Green Cemetery, Thursday 10 November 2016 at 7.30pm; tickets cost £5 and may be booked through this link)
For my earlier lectures, please follow this link.
The Passenger Train Created to Carry the Dead
I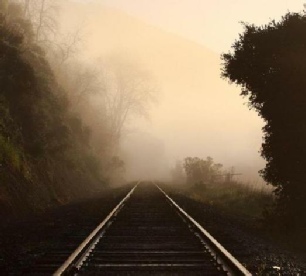 've been assisting Amanda Ruggeri for her article posted on the BBC Britain Autos website on the Brookwood Cemetery Railway.
The article was posted on 18 October and includes a number of quotes taken from our telephone conversation, along with some pictures from my collection. You can read the article here.